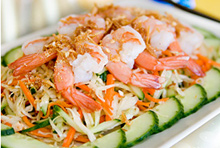 Ingredients
1/2 lb Thai Gold headless shrimp
1 cup shredded cabbage (leafy part)
½ cup shredded carrot
½ cup shredded cucumber
1 stalk chopped green onions
3 tablespoon deep fried shallot bits
2 tablespoon chopped parsley
2 tablespoon crushed peanuts
Marinade
1/3 teaspoon salt
pepper to taste
1 teaspoon corn starch
Sauce
1 tablespoon chopped red pepper
1/2 tablespoon minced garlic
2 tablespoon fish sauce
3 tablespoon lime juice
1/2 tablespoon sugar
1 teaspoon white vinegar
1/4 cup chicken stock
Method
Thai Gold shrimp de-shelled, deveined, washed and towel dried.

Add marinade to mix thoroughly. Let it sit for 5 minutes.

Cook it well in boiling water and drain.

Put shredded cabbage, carrot, cucumber, chopped parsley and green onion in a large mixing bowl.

Add sauce to mix well and transfer to serving dish.

Add shrimp & sprinkle deep fried shallot bits and crushed peanuts on top to serve.